The Center for Research, Engagement and Collaboration in African American Life (RECAAL) primarily serves as an interdisciplinary academic resource center. The Center promotes stimulating research initiatives and programming related to African American life broadly and will facilitate mutually beneficial collaborative opportunities with the Winston-Salem community.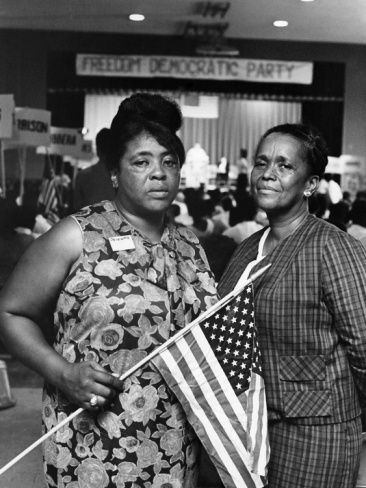 Fannie Lou Hamer and Ella Baker at the Mississippi Freedom Democratic Party's state convention on August 6, 1964. The convention was attended by nearly 2,500 black Mississippians who were addressed by Stokely Carmichael. While speaking, Carmichael would say that those assembled that evening were testaments of the "sacrifice, blood, and struggle" for denied rights.
The Center for RECAAL therefore serves as an incubator and facilitator for university-community collaborations designed to advance knowledge of African American life within our intellectual space and enhance African American communities.
The Center's community-facing work will focus on maintaining partnerships with schools, nonprofit organizations, governmental agencies, artists, and faith-based organizations in the Winston-Salem community through collaborative learning and programming on African American life and culture.
Core Objectives
Support interdisciplinary faculty research on African American life in intellectual and postcolonial history; literature; religion and culture; artistic production; historical formations of globalism; urbanism and culture; migration and diaspora studies; black political thought; studies in Pan-Africanism; Black nationalist thought; cultural productions; Black foodways; ecological concerns related to Black communities; Black embodiment; gender; sexuality; educational and economic disparities in Black communities; and studies in global contexts (i.e., Black Atlantic studies).
Develop innovative ideas in the research of African American life through structured opportunities for dialogue across disciplines, including the humanities, arts, sciences and social-sciences, and with the larger Wake Forest University intellectual community.
Engage in robust community facing work by sharpening existing and creating new community links between the University and Winston Salem for reciprocal learning opportunities.
Be a regional center and clearing-house for national efforts that promote the consistent integration of research in the multitudinous expressions of African American life while encouraging robust connections between campuses and the local communities in which they sit.